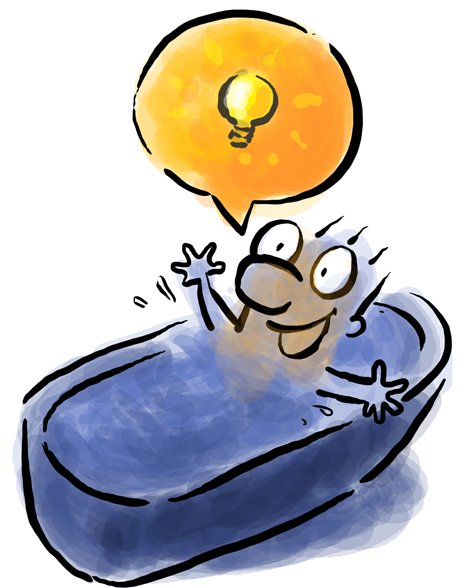 There you are, running around like a nut, because your uniqueness is well, so unique.
It's kinda what Leonardo da Vinci may have done when he drew pictures of the parachute.
But sometimes the uniqueness seems to be a bit ahead of its time
And when it seems that way, no one wants to believe you. Or even if it's not ahead of its time, but just seems a bit unbelievable, you run into the same problem. For instance, a company in New Zealand makes clothing that doesn't stink for 40 days. Yes, even if you've been in the hot sun all the time, perspiring away. Now that's hard to prove isn't it?

When you're trying to position your uniqueness in your client's brain, demonstration really helps.
Or let's say you have invented a glass that stands up to tremendous battering?
Well, glass is fragile, isn't it? So it's hard to believe that glass won't break. So hard, in fact, that you seem to be the butt of all jokes, rather than some genius. And that's where demonstration comes into play. With demonstration, you can prove even the greatest skeptics wrong in seconds.
But better still, you've now made your uniqueness viral.
Anything that can be quickly proven by you, can in turn be quickly demonstrated to others. And so the message passes on like wildfire. But the question does remain: how will you demonstrate your uniqueness?
Do you have any ideas? Do you have examples of products that have demonstrated their uniqueness in the past? Let's hear your comments.
P.S. Introducing the Uniqueness Mastery Home Study
The Uniqueness Mastery Home Study is a precise system that enables you to get your product or service to stand out. And not just stand out in a garish, uncomfortable way, but in a manner where the customer knows exactly why they're choosing you over the competition. It follows a system that that shows you how to get to your uniqueness.  Find out more Uniqueness Mastery Home Study